A Christmas Alphabet Book
They're snoring, they're snacking, they're singing, they're napping … and they're EVERYWHERE! When all of Zachary's relatives come to visit for Christmas Eve, there aren't enough beds for them all. So they end up sleeping in the craziest of places! Festive illustrations charmingly introduce each family member in alphabetical order.
"engaging, cluttered fun" (New York Times Book Review)
"In this lively Christmas tale, young Zachary runs down an alphabetic roster of family members and where they bed down. … Oeltjenbrun's funny illustrations make this romp through the zany household a Christmas delight." (Booklist)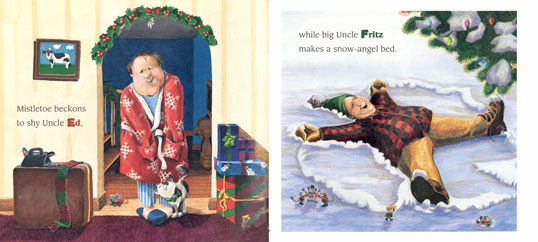 Not Enough Beds! a Christmas Alphabet Book by Lisa Bullard and illustrated by Joni Oeltjenbruns. Text copyright © 1999 by Lisa Bullard. Illustrations copyright © 1999 by Joni Oeltjenbruns, reprinted with the permission of Carolrhoda Books, a division of Lerner Publishing Group, Inc. All rights reserved. No part of this excerpt may be used or reproduced in any manner whatsoever without the prior written permission of Lerner Publishing Group, Inc.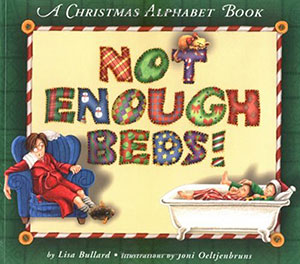 Not Enough Beds!
A Christmas Alphabet Book
written by Lisa Bullard
illustrated by Joni Oeltjenbruns
published by Carolrhoda Books (Lerner Publishing Group)
This book is out of print but it's easy to find copies online from used bookstores.