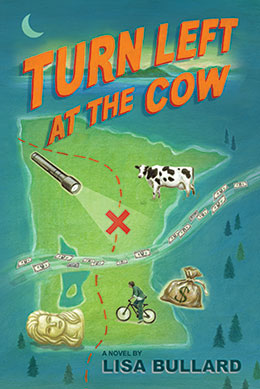 Turn Left at the Cow
written by Lisa Bullard
Harcourt Children's Books
(Houghton Mifflin Harcourt)
Thirteen-year-old Trav has always wondered about his dead-before-he-was-born dad. But when he heads from California to his grandmother's house in rural Minnesota, hoping to learn about his past, he gets more than he bargained for.
It turns out his dad was involved in a bank robbery right before he mysteriously disappeared, and the loot from the take is still missing. Along with Kenny and Iz, the kids next door, Trav embarks on a search for the cash. But the trio's adventure quickly turns dangerous when it becomes clear that someone else is looking for the money—someone who won't give up without a fight!
Turn Left at the Cow student review
Turn Left at the Cow student book trailer
Ask Lisa about Turn Left at the Cow
What real-life mystery inspired Turn Left at the Cow?
Why did you choose a small-town setting?
Why did you feature a boy with a missing father?
What kind of reader will like this story?
Have you always been a big fan of mysteries?
How did a fifth-grader help you write this book?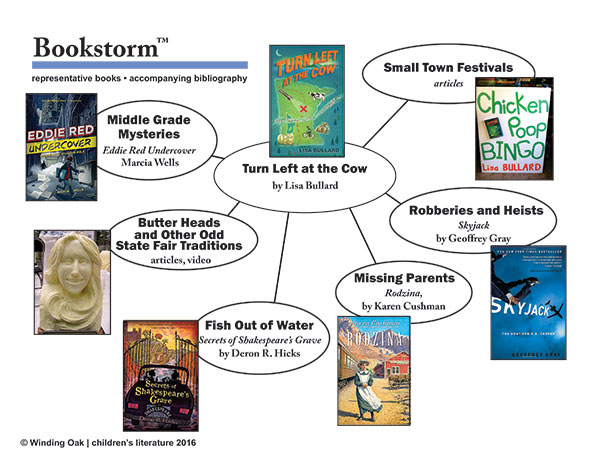 Junior Library Guild selection
Midwest Connections pick
Connecticut: Nutmeg Award nominee (2016-2017)
Florida: Sunshine State Young Readers Award nominee (2016-2017)
Minnesota: Maud Hart Lovelace Award nominee (2017-2018, Divisions I & II)
Nebraska: Golden Sower Award nominee (2015-2016)
"Too Good to Miss" recommendation /
     Booked for the Evening, St. Catherine University
Two Golden Cup Awards from the Always in the Middle blog:
     "Favorite Setting" and tied for "Favorite First Line"
"Family secrets, an unsolved bank robbery, summer on a lake, a treasure island and a first romance are the ingredients for this inviting middle-grade mystery…. A promising fiction debut." (Kirkus Reviews)
"Bullard has a good sense of family and community dynamic and articulates complex conflict and resolution with honesty and humor. Her characterizations breathe with life, and she paints the setting, all church-basement hot dishes, patriotic parades, and live-bait vending machines, with affectionate respect. With a warm narrative, careful plotting, actual danger, and the beginnings of romance, this adventure has something for everyone." (Booklist)
"[A] crackerjack plot keeps the excitement (and humor) flowing through a story of an old bank robbery, nefarious plots by jerks in high places, and the resilience of some hard-luck kids who make common cause and help each other when they need it most." (StarTribune)
"Along the way, this mystery not only sheds light on Trav's past, but also involves friendships, first loves, and finding a place to belong. Through strong character development, Bullard is able to explore family dynamics in a way that is both relatable and informative. Fans of books like Shelia Turnage's Three Times Lucky  are sure to enjoy this suspenseful and heartwarming novel." (School Library Journal)
"Debut author Ballard does a great job with this mystery, scattering some diverting red herrings here and there amidst the clues and providing a really authentic surprise solution at the end that caught me flat-footed. The mystery keeps the pages turning but the characters are what won my heart…. I can't wait to booktalk this one. Readers looking for a fun mystery are in for a great puzzle and there's a lot more to think about along the way." (Bookends: A Booklist Blog)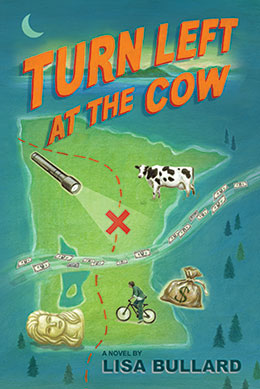 Turn Left at the Cow
written by Lisa Bullard
Harcourt Children's Books
(Houghton Mifflin Harcourt)